When you land an interview, it is an opportunity to showcase your talent for a position. It's important to be prepared, whether the interview takes place in-person, online, or over the phone. You need to be poised, articulate, and effectively communicate your experience and skills to a potential employer. A few phone interview tips can help you prepare and ace that conversation.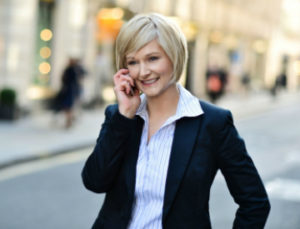 First, do the interview at home. That allows you time and space to prepare, plus you have control over the environment. Look around and get rid of anything that could distract you. Make the area where you will have the phone call comfortable and ready. Plus if you need something, you can grab it within a few seconds.
When it comes time for your phone interview, make sure you are ready. Have a beverage if you want one, a pen and paper for any notes, and your resume should they ask you about previous work. Make sure the area is neat, that you are calm and prepared for this interview.
A smart move is to use your computer while on the phone. If there are certain details about the employer you want to look up, do so. Ask questions about certain aspects of the position or the company. The Internet can also help you find an answer if you are stuck on something.
One of the phone interview tips that might surprise you is to still smile. Have good body language, as it helps with your energy. Even if you are still or pacing, observe yourself so you have positive energy, not stressed out or uninterested.
Make it count. Use the phone interview to sell yourself, say thank you, and try to be persuasive. Be engaging, concise, and make the few minutes you have with them worthwhile.
These phone interview tips will help you have that rewarding conversation with a future employer. Be prepared, be informative, and use the opportunity to take an interview to the next step.
For more information on San Diego Pro Staffing, contact us online.